Free-form tarts are the savior of the no-frills cook. Unlike cakes that are baked in a pan, you don't have to worry about cutting dough, rolling out perfect circles, or using cake weights. They are what I like to pull out of my oven all year round, but especially in connection with the main season for tomatoes. A nice tomato tart with marmalade, caramelized onions tied with fresh basil next to a simple green salad? Good sir yes.
This recipe for tomato tarts is a few personal winks, twists and additions to one of the classic versions you might find in France. I am talking more about the crust that I use below and also about the toppings. I love this kind of cake for picnics, beach days and road trips, dinner gatherings and potlucks – cut into wedges or bars. They show the best flavors of the season, and once you've made the dough (takes less than five minutes), the rest is a snap.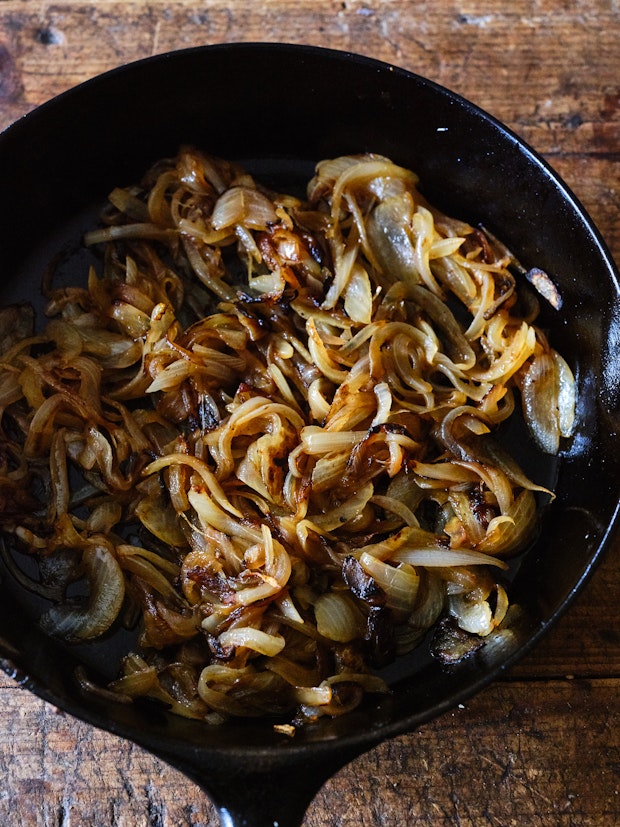 Let's talk about toppings
You can keep the rubbers as simple or as complex as you like, and the version here splits up somewhere in the middle. The version shown (and included in the recipe) combines caramelized onions and seasonal lace tomatoes as the core ingredients. It takes time to cook the onions, but to be honest, if you fill a large pan and keep it in the fridge, it's great for pizzas, sandwiches, and pasta and pasta shells all week long.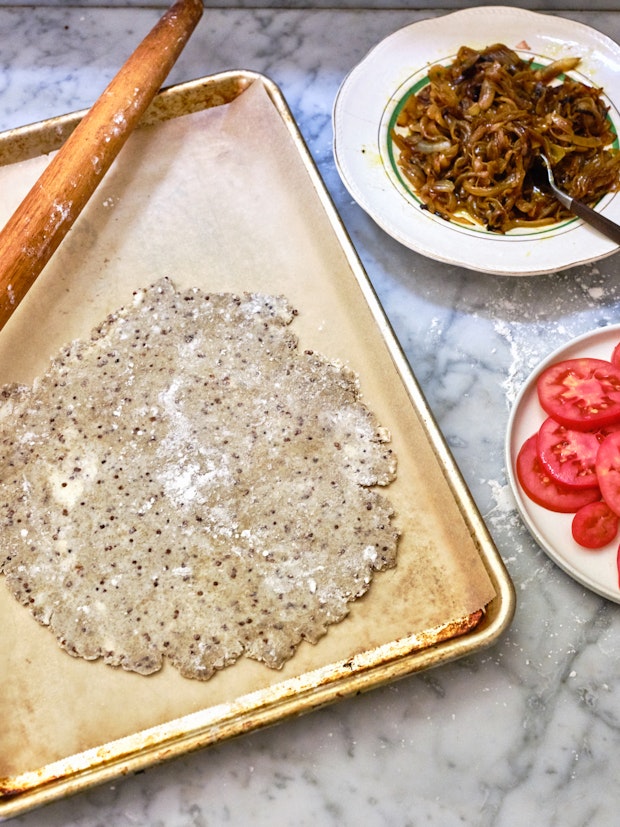 I add a large pinch of turmeric and a lot of black pepper to the onions here, but you don't have to. You can think of the onions as their own ingredient and season them as much or as little as you like. As long as you imagine that your spices go well with tomatoes, you're probably fine. Basically there is a world full of possibilities. I can imagine that cinnamon, cumin, caraway, ground paprika, curry mix, etc. are wonderful additions. I'll talk more about toppings below, but the spicy batter is basically an empty, buttery canvas to experiment with.
Make-ahead friendly
With a little planning ahead, these types of cakes are completely weekday friendly. Especially if you consider the hot dough as a component. You can do it and cool it days in advance. Or make extra, double wrap and freeze – thaw (but keep cold) before use. I consider the rubbers as the second component and I often make a large amount of them over the weekend. For tarts like this, I could caramelize the onions a day or two in advance. Or browse your fridge for other ideas. If I had extra pesto, maybe slide it over the batter before adding other ingredients. Or if it was winter, I would maybe grab a roasted winter squash.
A rustic crisp crust
The crust of this cake uses one of my favorite baking trinities – Rye, cooked quinoa and all-purpose flour (or bread flour). I increasingly use a mixture of these three ingredients – when I bake sourdough, when I make flatbread (and pizza crusts) and for pies like this. The butter brings richness and taste, while you get the nutritional boost of quinoa and rye flour from wholegrain and a little lightness from the white flour. If you set the ratio correctly, you will get a good quality from your oven, which is rustic, flavorful and satisfying – with a nice, scaly texture. AND the recipe introduces you to my favorite method of contracting a cake or a spicy batter.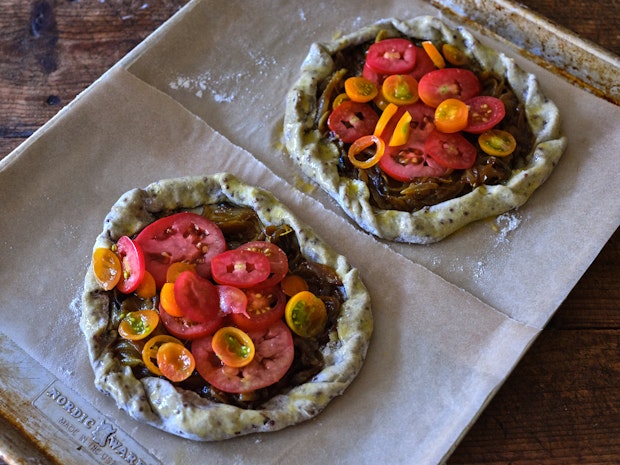 A few sharp tips
Make sure your toppings are not hot when you put your pie together. Whether you're preparing this cake or fluting it with another idea, make sure your roasted pumpkin, bubble mushrooms, or grilled pumpkin are at room temperature or colder. This way, the butter in your crust will not melt.
Work quickly when you roll out your chilled dough. Make sure your counter and rolling pin are dusted with flour. If your dough sticks at all and you feel that it has become too warm, put it back in the fridge for 10-15 minutes and try again.
If you think your unbaked cake doesn't look good, you can power it up. Take a look at my unbaked cake picture above. It is not an award winner, but have confidence! They look exponentially better after being coated with egg and baked golden brown in a hot oven.
It also reminds me to resist the urge to bake. I tend to go in the oven for as long as I can to get this nice color and give the crust crispness and structure. They strive for golden plus plus plus.
Ideal tomatoes for tomato tarts
I use a mixture of the tomatoes that are the tastiest at the moment. You don't necessarily have to be the best looking tomato, and a cake like this is a great way to use slightly faulty tomatoes because you don't know the difference after baking. I like to use a mix of tomatoes of different sizes and a mix of colors when I have them. Variety is good here. Use what you have as long as it tastes good.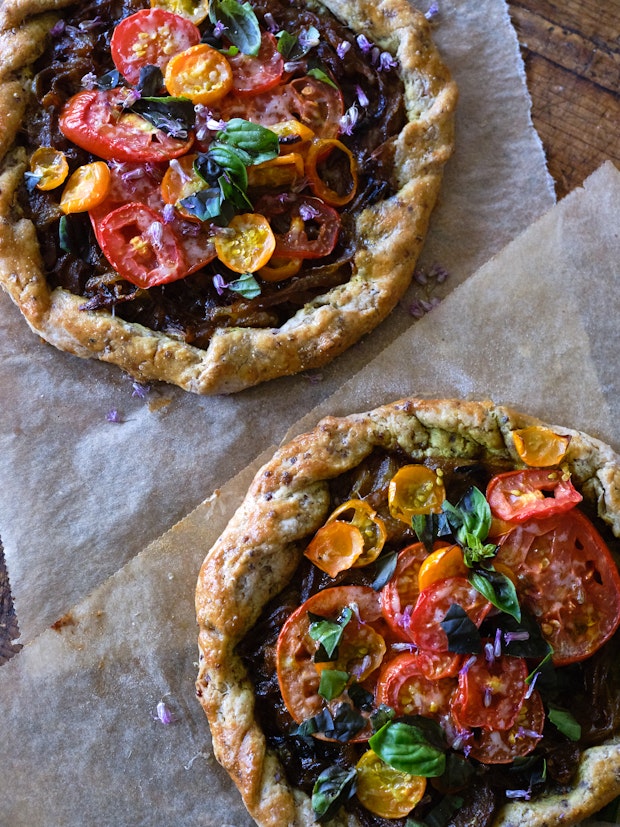 As I look at this photo, I keep thinking to myself: "You should have left it in the oven for five minutes." It's a good color the way it is, but it had the potential to become really, really good. Next time!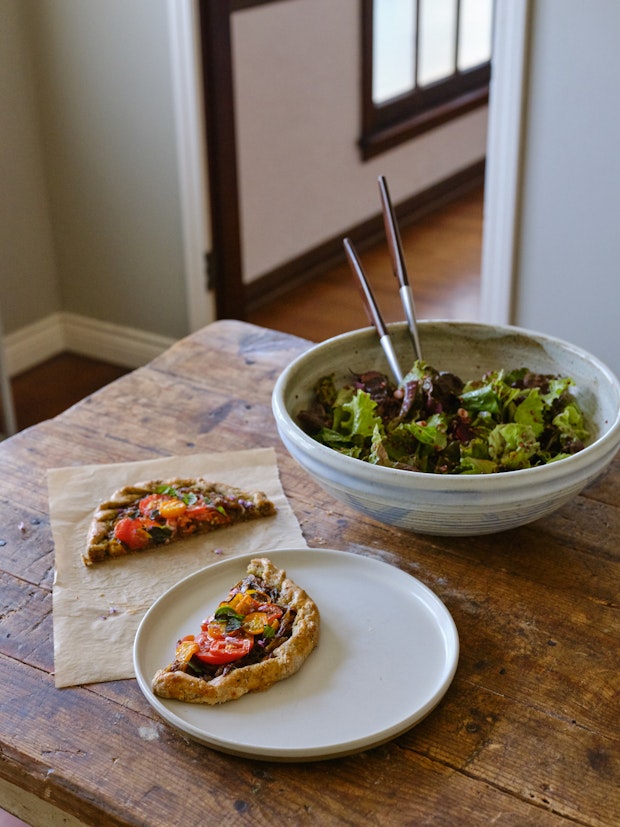 Enjoy the cake (s)! Let me know if you still experiment with the rubbers. You know I love your wild cards! -H