I make this vegan sushi all the time. Especially when the weather is hot (read: now). It's a recipe that I wanted to include in Super Natural Simple but left out at the last minute. So! They show up here where I have more space to talk about rice, rolling technique and variations. And don't worry, you don't need any special tools to do it. This is homemade vegan sushi made from sweet potato fries, seasoned tofu, avocado, kale chips and a whole grain sushi rice mix. A quick kiss with strong soy sauce with wasabi spikes is my preferred dipping sauce.
Let's talk about sushi rice
The key to your success here is choosing the right rice. One way to ensure your sushi rolls hold together is to use short grain white sushi rice. For this recipe, you combine cooked white sushi rice with other whole grains to improve it nutritionally. I've found that using a percentage of white rice really helps the buns come together. More importantly, it helps them stick together, especially important for those new to sushi or when kids are helping.
Cook the sushi riceRinse the rice grains well before cooking. And if you have time to soak them, even better. I use 2 cups of rice and 3 cups of water and a bit of salt – barely half a teaspoon. Cover and simmer for 15 minutes. Cover and let rest for 10 minutes. By the end, you should have perfect chubby, sticky grains of rice that you can then pair with other quinoa, cooked grains, pearl barley, black rice, or brown rice. I'll outline the relationship I like below, but you can experiment. This organic sushi rice is an example of the type of rice you are looking for for the white sushi rice component.
Spice: Traditional sushi rice also uses a mixture of vinegar and sugar as a condiment. Sometimes I add it to my cooked rice, sometimes I skip it. I know this could be a controversial admission, but I encourage you to think about different ways that you can flavor, flavor, or enhance your rice. The rice in these sushi rolls is plain and simple. That said, once you understand the basics, you can experiment if you want! Use strong broth in place of the water in your rice. You can add spices (turmeric, curry mixes, etc.) or ingredients like chopped garlic, ginger, or spring onions. Playing around!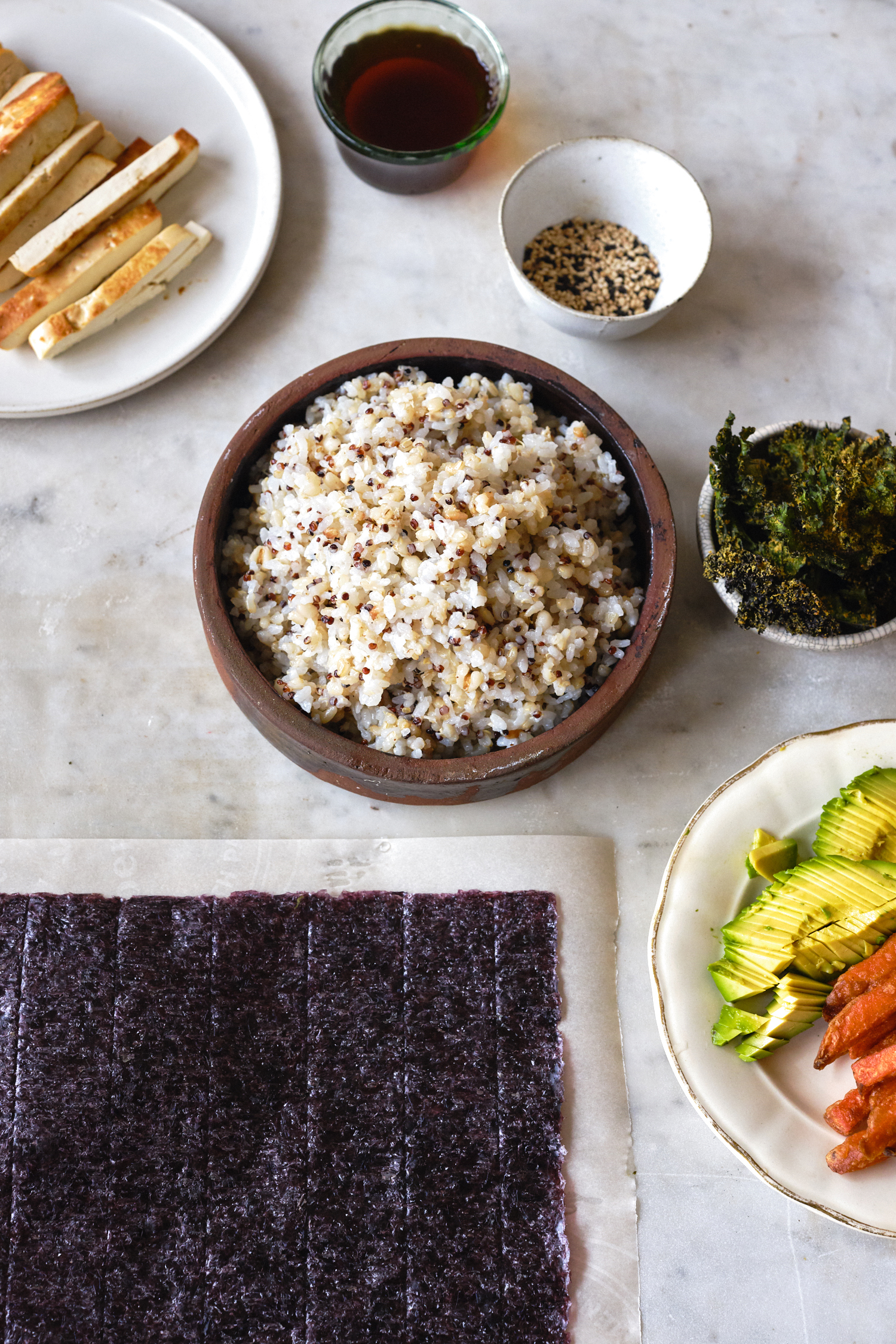 No sushi mat, no problem!
You don't need a special sushi mat to prepare sushi. I tend to use parchment paper. A clean linen or cotton cloth can also work. If you want to make an inverted roll (where the rice is on the outside, line your parchment paper with a sheet of plastic wrap. Make a layer of rice, next add the foil nori, followed by other ingredients and / or rice. You can see how I prepare to roll sushi in the photos below, basically this is a long way of saying that you don't need special equipment to make vegetable or vegan sushi.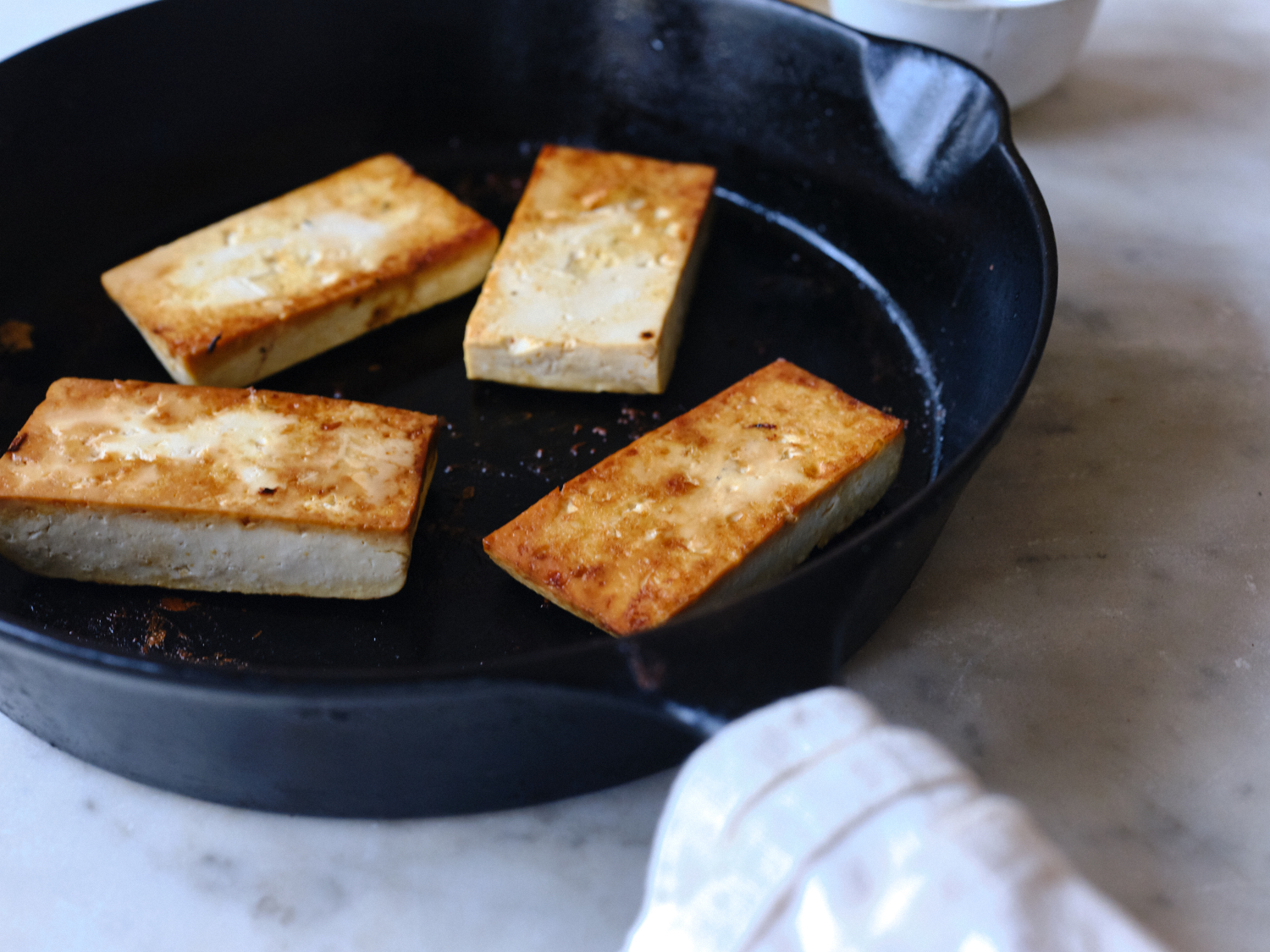 Vegan sushi filling ideas
As mentioned above, today I am highlighting my favorite sushi roll for you. I've done them twice this week! I'll talk you through the main components:
Seasoned tofu

: Marinate tofu plates in a simple mixture of soy sauce, water, and sesame chili oil. You can grill the tofu or cook it in a pan (above) until golden brown. Let cool a little and cut into matches with a sharp knife. You can see the sliced ​​tofu pictured below.

Sweet potato fries "

: Cut sweet potatoes into roasting pans. Skins on or off, your choice. Mix with olive oil, sprinkle with salt and bake at 400F until golden brown. Turn it around once or twice. I tend to use the sweet potato version of these baked fries, but Wayne sometimes buys pre-cut sweet potato baked fries in a freezer bag, and these work great too.

avocado

: Thinly cut and perfectly ripe is what you are looking for.

Kale Chips

: I like the crunch you get from adding some kale chips. Consider adding a bonus to them if you have one on hand.

Sesame seeds

: In your buns, on your buns, whatever.

placeholder

: When I have them sometimes I add a little cucumber, spicy tempeh sprinkles, or I make the sushi with this tempeh instead of the tofu. I love this natural wasabi paste and mix it with soy sauce, shoyu or tamari as a dip.
As I mentioned earlier, on the rice side, I like a rice mix with a good amount of whole grain and have got the best results with half white sushi rice mixed well with half whole grain rice. For the whole grain rice portions I like to cook short grain brown rice with a good amount of quinoa. That said, any whole grain mix should work with the white sushi rice. It's sticky and helps hold everything together nicely.
How to put your sushi together
Sushi doesn't have to be perfect to be tasty. Keep this in mind if you are new to this field. I thought I was going to post a play-by-play photo series about how these roles come together. Before we get into that, it's helpful to know if your sushi rice is sticky and difficult to work with. Wet your hands or your spatula with cold water. It's a game changer.
Let's go: Once you've made all the ingredients, it's time to make sushi. What you see in the photo below is a sheet of parchment paper instead of a sushi mat. An 8 by 8 inch sheet of nori is placed on top. About a cup of rice is spread over the lower third. Pat it with a spatula so it holds together. Now add strips of avocado, sweet potato, tofu, and anything else you want to your sushi.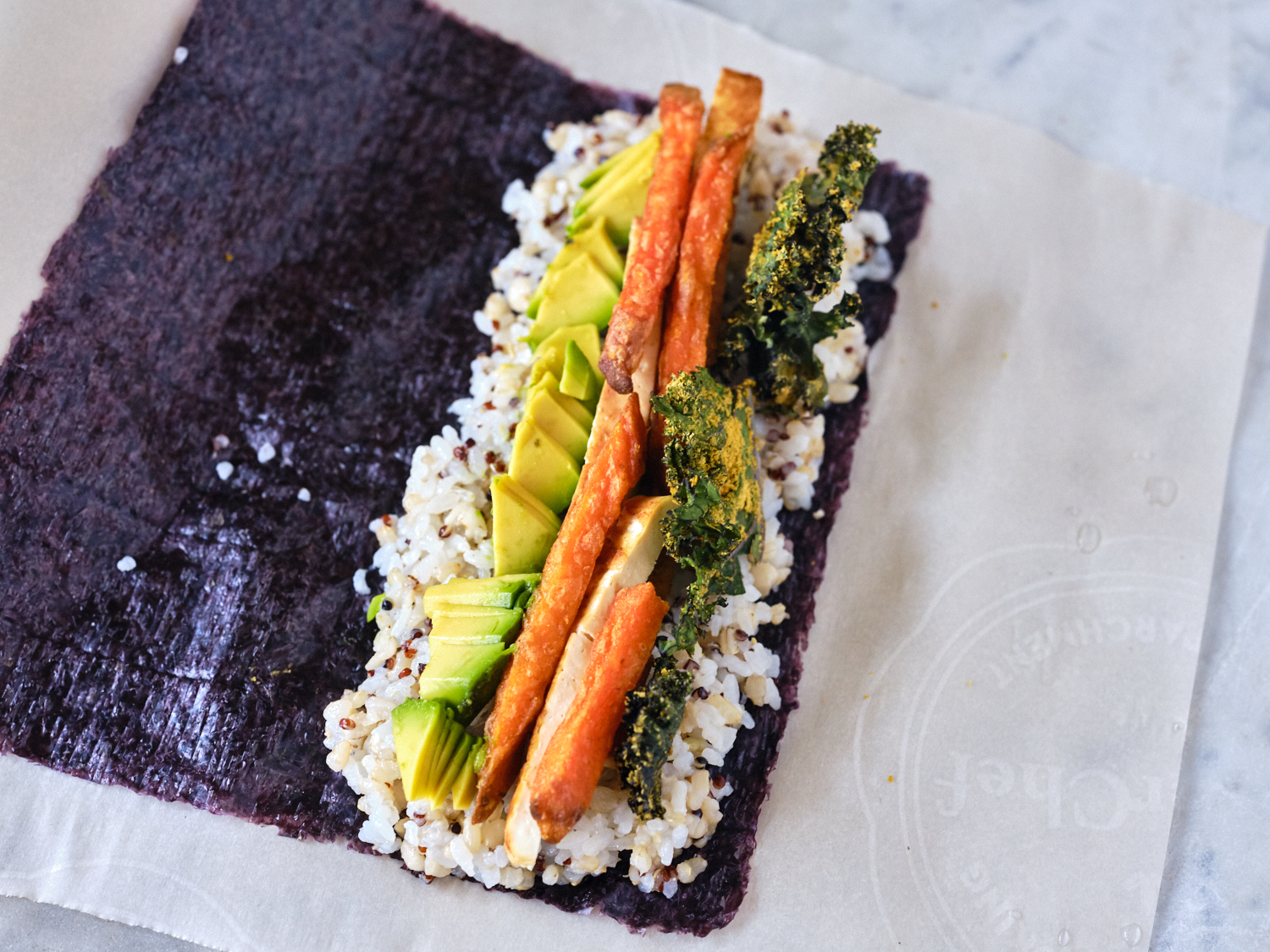 From the bottom, use your sushi mat or parchment paper to gently (but safely!) Guide everything and shape it into a roll. You can see how it starts in the photo below.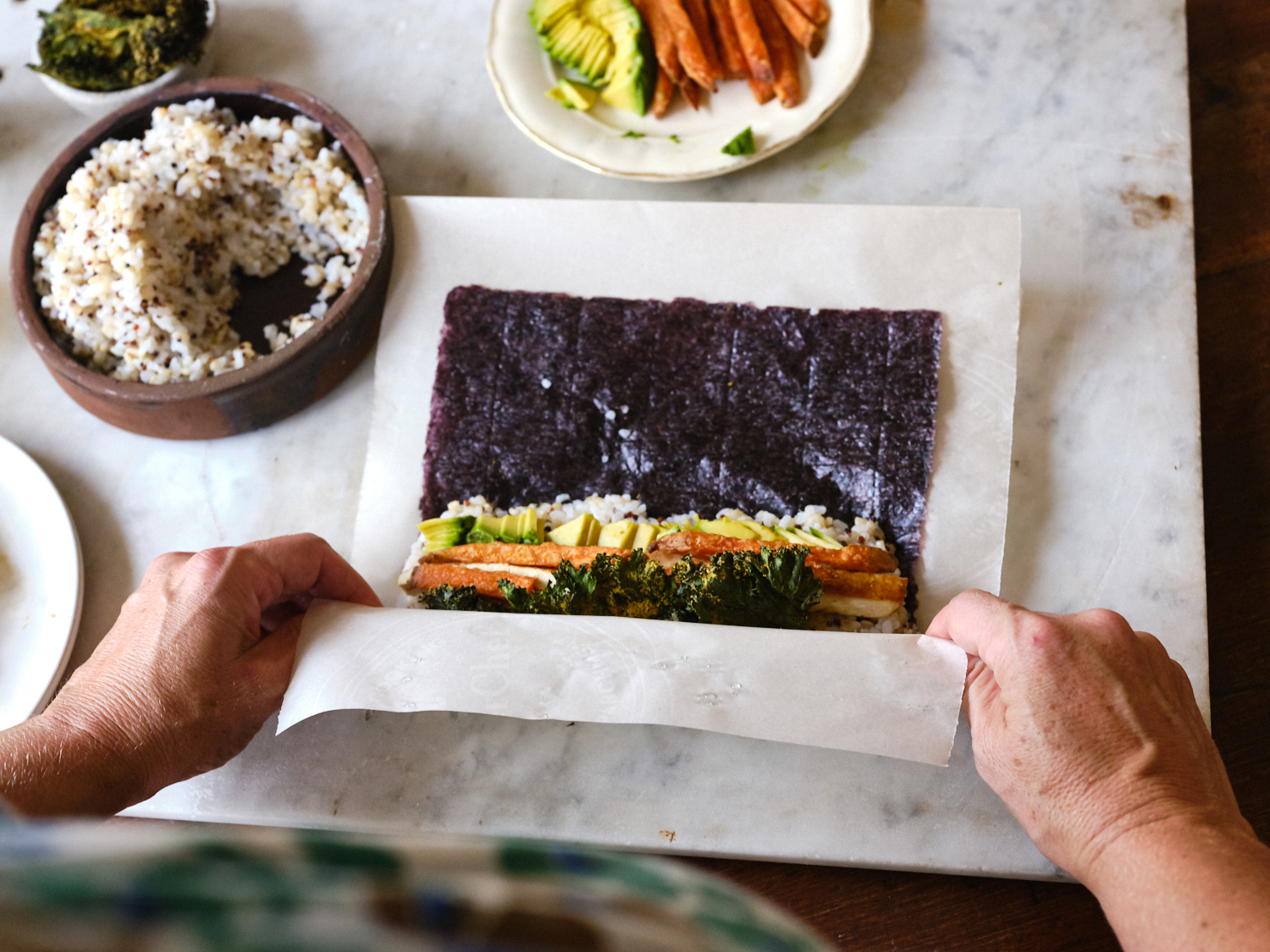 Use your extra fingers to hold the ingredients in place and pull the roll towards the sushi mat. See photo below. The goal is to shape things and hold onto them. Run and keep rolling.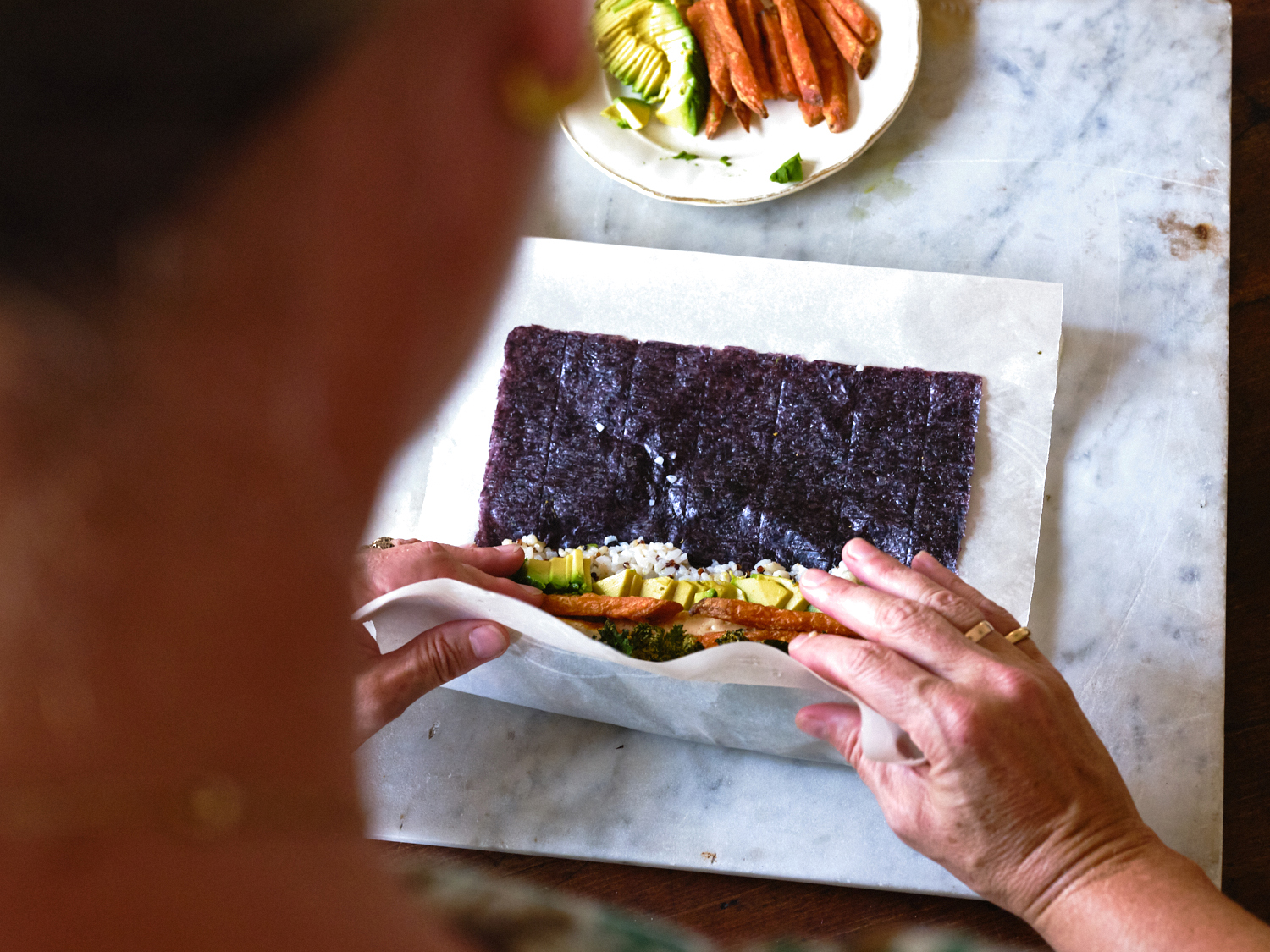 Once the rice and fillings are surrounded by the nori, compress and tighten things again. I basically run my hands the length of the roller to make sure nothing is loose.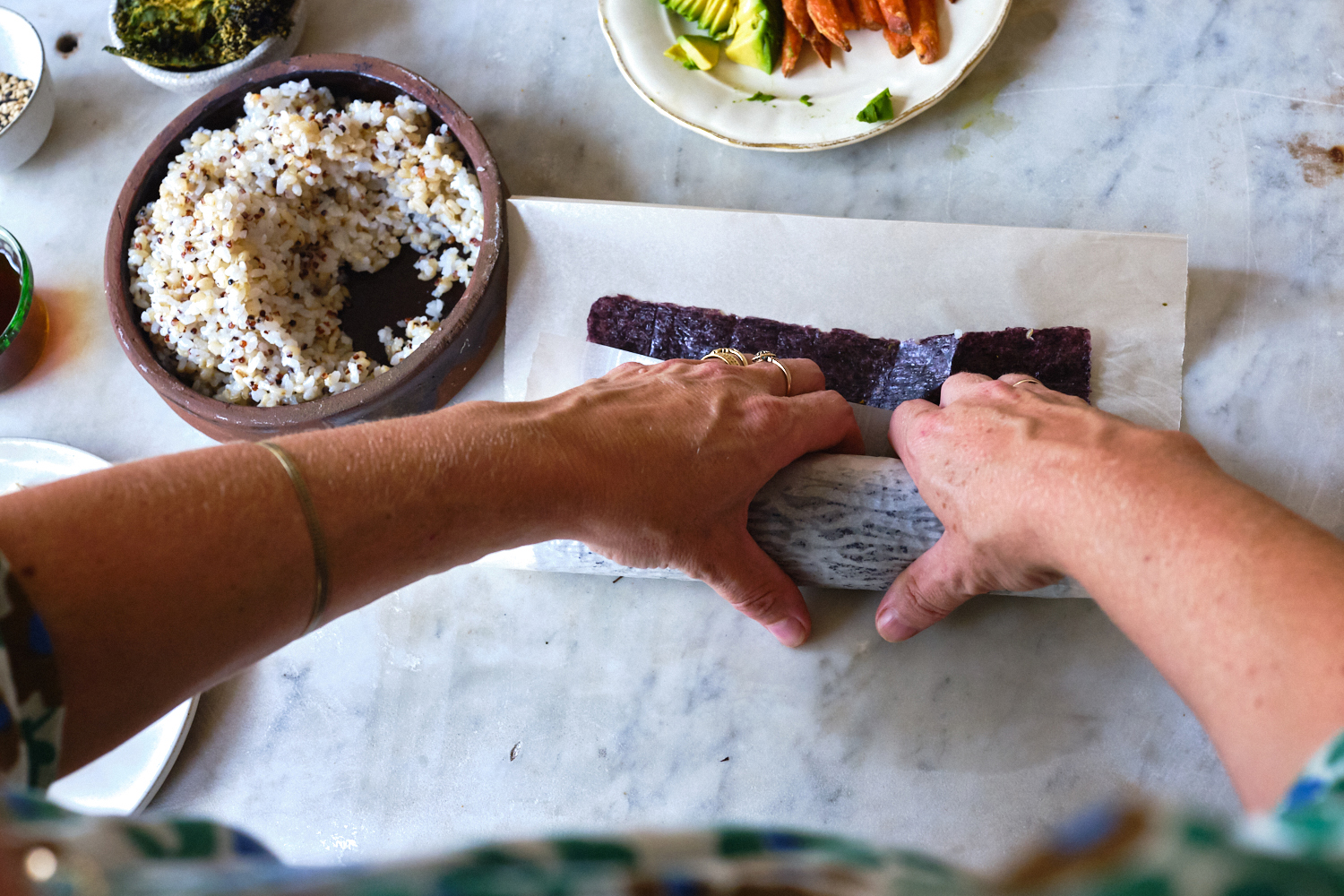 At this point, continue rolling to the end of the nori and moving the sushi mat or parchment paper out of the way. See examples above and below.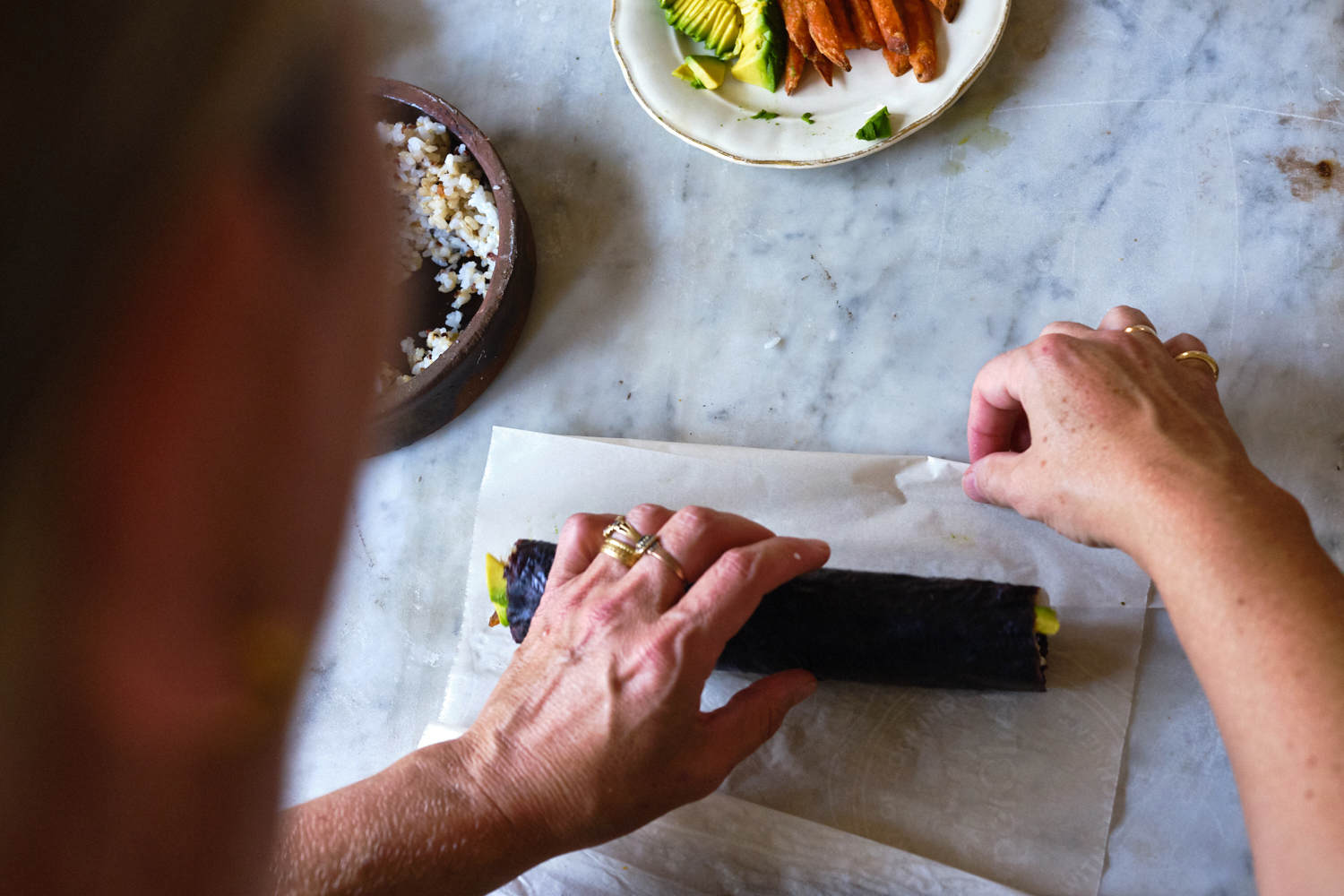 At this point, you should be able to cut the roll into pieces of sushi. Use your sharpest knife, keep it damp with water and clean if necessary.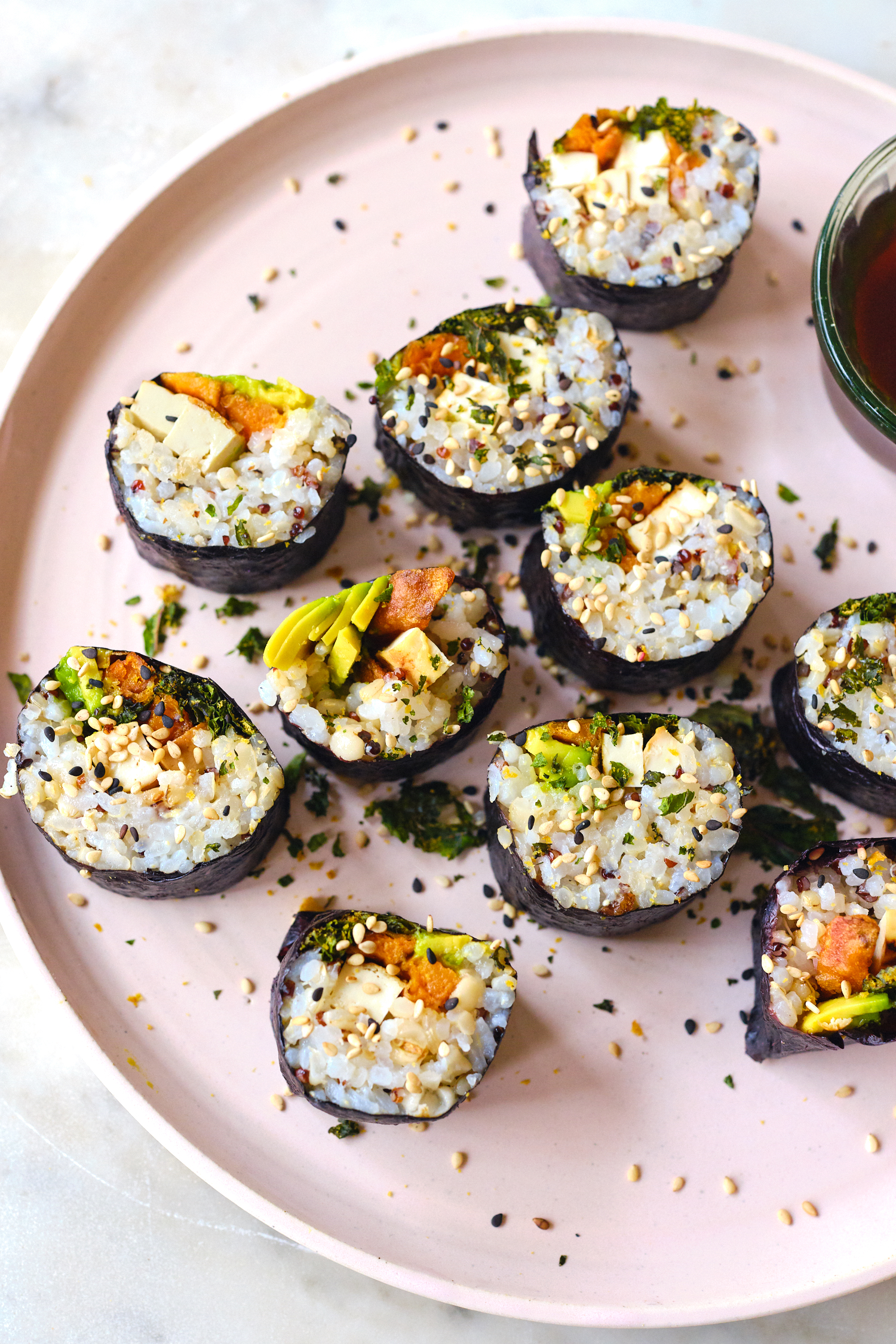 It's great fun to explore the world of vegetarian and vegan sushi. Next on my list is using a sushi rice version of Bryant Terry's Amazing Green Rice. Basically, I imagine that it will be very similar to this roll, but with its mixer technique it will give the rice a greenish tinge. Or maybe, as we head into the fall, a mushroom-centered role. Excited to see your versions!